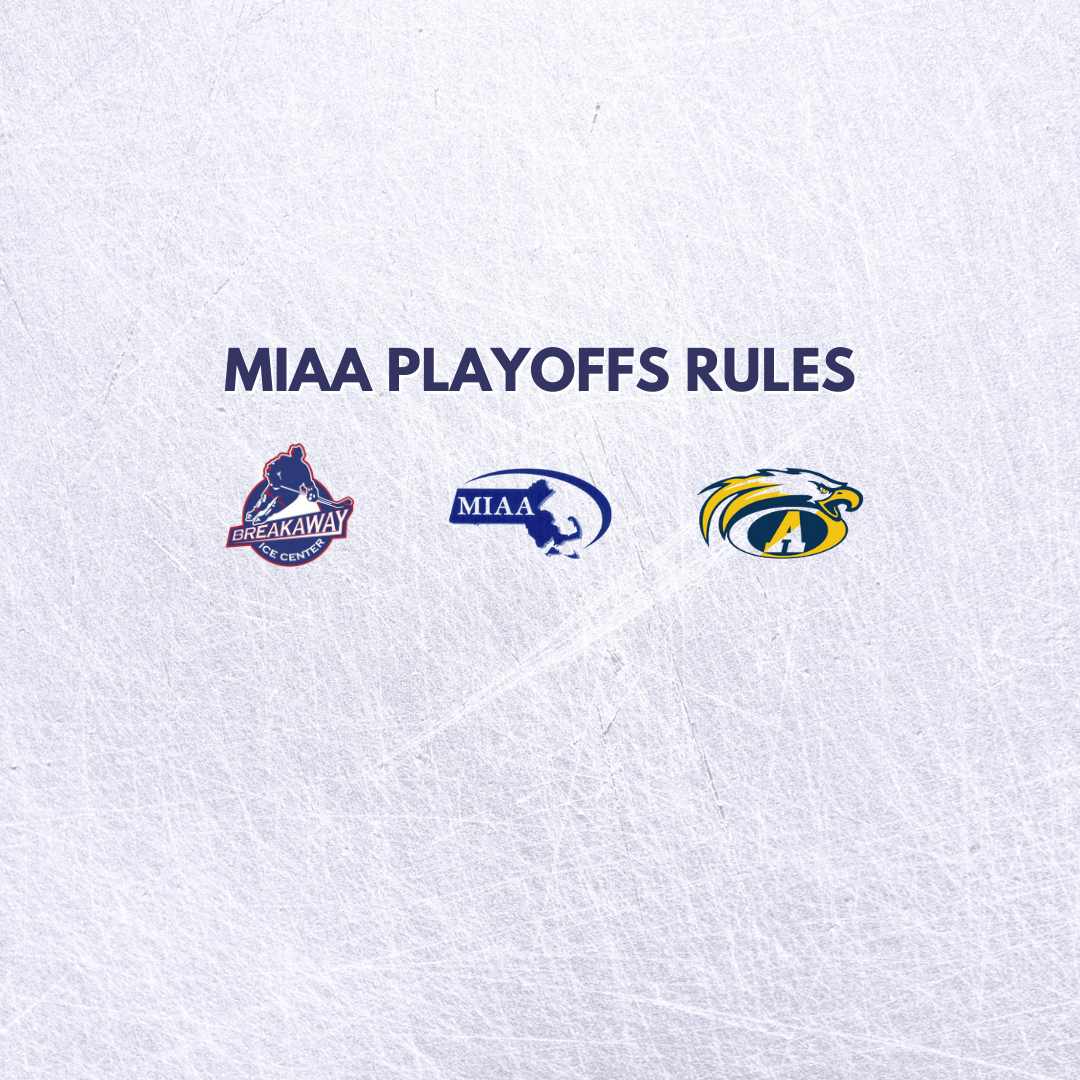 MIAA Tournament Rules 2023
2023 MIAA Hockey Tournament Information you need to know:
Breakaway Ice Center at 20 Carter Street in Tewksbury is honored to host games in the early rounds of
the State High School Hockey tournament.
1) We are the Home of Andover Girls.
2) Sportsmanship and positive behavior are strictly enforced at Breakaway. We want to ensure a
positive experience for all student-athletes, coaches, and school staff who have worked hard to make the
state tournament and play for a title. Please remember it's about the student-athletes.
3) This week's schedule:
A) Andover Girls vs Sandwich at 7:10pm Wednesday 3/8
5) Coolers, backpacks, and/or outside beverages are NOT allowed in the facility.
6) Due to insurance purposes pets are NOT allowed entrance at Breakaway Ice Center. Emotional and Therapy animals are NOT
permitted at Breakaway. Service dogs are allowed and must have vests per ADA requirements and have proper training and Identification per ADA requirements. Police details will enforce this policy at the entrance.
7) Vehicles with plows and oversize vehicles will be asked to park on the front lot, next door at the Teamsters building at 10 Carter Street.
8) For the safety of all attending there will be Police details along with Breakaway staff located at the parking lot entrance. We have parking
set up in our own lot, the baseball parking area, on the turf fields, and the Teamsters parking lot.
9) If you want to drop off a player or spectators at the front door you may do so BUT you will NOT have access to
the parking areas unless you exit the main lot, circle around the block and reenter the main lot.
10) Breakaway has signs posted in NO Parking areas. A tow company randomly patrols the lot and will tow any illegally parked vehicles. Please park only in assigned areas and spaces. If you have a question, ask an attendant or a manager inside.
11) We will follow the MIAA guidelines for fan behavior, signs, and noisemakers and this will be monitored and enforced by the host schools.
12) Management reserves the right to deny entry to any persons and to remove any patron from the facility.
13) Smoking, alcohol, and drugs are NOT permitted at Breakaway.
14) Please use our email address
BICIceschedule@gmail.com
or text our Rink/Facility manager at 857-772-1893 to report any concerns.